Who can resist a yummy cheesecake? Especially on a HoliDay? Yes, I knew last Sunday would be full of sugary offerings–all day long, as we gathered as a family to Celebrate the Ressurection of Jesus. All those store-bought candies wouldn't hold much temptation, but there might be a homemade specialty that would call out. Besides, I wanted a special treat that I could enjoy–and feel good about.
I have seen so many cheesecakes lately on the Instant Pot Facebook groups. Those have definitely been on my mind. But I really wanted to make a raw dessert. The adventure began.
As most of my recipes I share here, this is one that both worked well that I and others loved, and also one that my mind is still turning gears for changes I plan to try. Next time I will replace sweeteners with dates, try fresh coconut milk, and experiment for oil free. Those are ways I'd like to improve this. But as a special treat, this was fantastic as is. Very yummy–even to those that don't eat real foods for health. For those, rather than calling it healthy vegan cheesecake, I named it Reece's Cheescake.
Enjoy!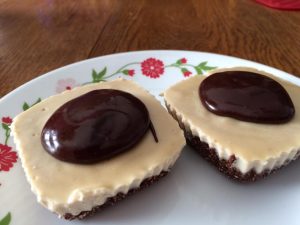 Lisa's Reece's Cheesecake Squares
Crust:
1 cup Almond Meal
1/3 cup Maple Syrup
1/2 cup raw Cacao Powder
1 tsp. vanilla
Mix in a food processor until it is well mixed and holds together when pinched together. Press 1.5 Tbl. into the bottom of each square (or other shaped) silicone cupcake liner.
Filling (adapted from Minimalist Baker):
1.5 cups raw cashews, soaked overnight in refrigerator
1/4 cup fresh lemon juice (approx.)
1/3 cup coconut oil
1/2 cup + 2 Tbsp canned coconut milk
1/2 cup maple syrup (or honey)
2 Tbl. peanut (or almond) butter
Mix well in food processor until smooth. Scoop 1/4 cup onto each crust. Tap each cup to dispell air bubbles.
Freeze for a few hours. Remove from freezer 10-30 minutes before serving.
Top with Ganache.
Ganache:
1/2 cup maple syrup
1/2 cup raw cacao powder
1 tsp. vanilla
1 Tbl. coconut butter
2-3 Tbl. coconut oil.
Blend well. Spoon or drizzle on top of cheesecakes.
Bon Apetit!