One of my favorite breakfasts is Steel Cut Oats. Years ago I didn't think I liked them. I'd grown up on rolled oats and eaten those my entire life.
But when I tried Steel Cut in more recent years, I found I loved them! The texture of the Steel Cut is different. Chewier. For those that think you hate oatmeal because it is mushy, give Steel Cut Oats a try!
Now, I love them even more because I make them in my Instant Pot, and can just dump in the oats and water, set it and forget it. No watching a clock. No watching–or scorching–a pan. I can go off and do whatever I want, not worrying about when I get back to them. My Instant Pot will hold them on keep warm until I get there.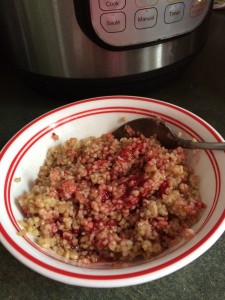 Super simple "recipe"
I put in a 4 cup Pyrex bowl on a trivet in my Instant Pot, with 1 cup water (in the liner pan) below.
Cook at Manual, 10 minutes. You can Quick Release.
Serve with berries, homemade Almond Milk, and if desired cinnamon and and a hint of maple syrup.
Do you make Steel Cut Oats? Do you have an Instant Pot? Did you try this recipe? Comment below!
Affiliate links included in my posts. Purchasing through these links helps support this website, for you to receive the info on this site for free.
[subscribe2]