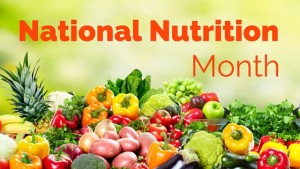 Did you know March is National Nutrition Month? This was declared way back in 1973. You'd think that with a full month every year for over 40 years for focusing on nutrition, that the health of our nation would have greatly improved since then. Do you want to guess whether Americans are healthier now than then? The answer is, No.
But back to that original question, you (most likely) did not know this was National Nutrition Month. Although there has been plenty of scientific research, and the internet has brought an informational flood, there has not been great focus by the general public on true nutrition learning in that time. Oh, there have been a whole lot of food wars, and plenty of fad diets that come and go and come back with new names. Plenty of "research" paid for by huge fake food conglomerates telling us how their products are great for our health. Plenty of label hiding, label manipulation, calling artificial ingredients new names, and calling isolated, highly refined and manipulated "food" products "natural" that in no way resemble the whole plant foods they (or a small part of them) originally came from. But, in 40+ years we've just added a lot of confusion, and a plethora of more fake foods.
More than 62% of what Americans buy and eat from the grocery store are highly processed foods, full of fat, sugar and salt, (and artificial ingredients,) and are no longer recognizable as original food ingredients. Add in the percentage of slightly lesser processed foods, that have artificial and harmful additives and you've got about 80% of your food calories.  Add in a few more "natural" animal products, (more processed ones were already included–for a total of over 37% of the average American diet is animal products) and you get to the bottom line. Americans eat less than 10% real plant foods (and even most of those are prepared in a health harming way, i.e. the #1 (from)"fresh" vegetable eaten is french fries.) The Standard American Diet truly is S.A.D. 🙁 And I think most Americans know that much. There is no controversy on the fact that we all need to eat more fresh vegetables and fruits, and less "processed" food products.
There are many resources to increase your knowledge of real food nutrition, but today's tips are for  helping you put nutrition into practice in your own life, during this year's National Nutrition Month!
5 Tips to Get You Started
Start Celebrating National Nutrition Month today, by beginning to implement the Tips above! Comment below about the steps you're taking to Celebrate this Nutrition month!
[subscribe2]