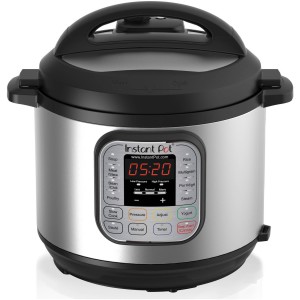 Instant Pot DUO60 is my newest favorite Modern Maidservant. I've used stovetop pressure cookers for decades, but this electric pressure cooker has not only cut down cooking time, but also made it set-it-and-forget-it convenient. For the small amount of cooked foods you eat on a Good for You-Naturally! lifestyle of eating, Instant Pot, with its stainless steel pot and  7 cooking functions, can be a great option!
Read more: Modern Maidservant #6–Steamer (But Instant Pot goes WAY beyond a steamer.)
Instant Pot IP-DUO series is a 7-in-1 programmable cooker. It combines the functions of a pressure cooker, slow cooker, rice cooker/porridge maker, steamer, sauté/browning, yogurt maker and warmer. Using the 14 built-in smart programs your favorite dishes are within the reach of pressing a button, in just a few minutes. Vegetables can be steamed in 2 to 3 minutes, fresh or frozen. Potatoes steamed in just 15 minutes. An entrée can be done in 1/2 to 1 hour, without you watching over it.
To tailor for varying tastes and food conditions, the programs come with 3 adjustable modes. Special features include 3 temperatures in Sauté for browning, simmering or thickening, and 3 temperatures in Slow Cook to complete the tasks of a common slow cooker. Most traditional, modern and international recipes can be easily adapted for Instant Pot.
A 24-hour timer allows for delayed cooking. Automatic keep-warm holds the temperature of the food until you are ready to serve.
Instant Pot generates almost no noise and leaks no steam. It traps all the aromas in the food. It cooks food without heating up the surroundings. It is truly a kitchen-friendly appliance. The 3-ply bottom stainless steel inner pot is extremely durable and leaves no health concerns of non-stick coating residual. The new slim body design has a smaller foot print and lid holders for both left- and right- handed users. The brushed stainless steel exterior is finger print resistant. Its elegant and durable industrial design makes it easy to clean and pleasurable to use for the years to come.
Instant Pot IP-DUO series uses the latest 3rd generation technology with an embedded microprocessor. During the cooking process, the microprocessor monitors the pressure and temperature, keeps time, and adjusts heating intensity and duration. Even the volume of food is also taken into consideration. The cooking programs have been lab-tested hundreds of times for optimal effect. These greatly improve cooking results and maintain consistency.
Now also available in 8 qt. size for those cooking for large families, groups, or bulk/freezer cooking.
6 qt. Instant Pot          8 qt. Instant Pot