#6 – Steamer
Our top recommendations – Instant Pot or Miracle Stainless Steel Rice Cooker (and vegetable steamer) or VitaClay Smart Organic Multi-Cooker (for stovetop Stainless Steel or Silicone or Bamboo Stovetop steamer)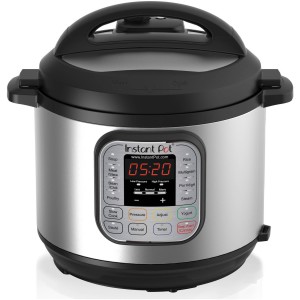 So many options. Yes, I've given many recommendations above, and below I'll give you my thoughts, so you can choose the best for you. The Instant Pot is my newest fave, as it's a very versatile pot that can do just about anything you need, not just steam veggies and cook grains.
Some vegetables as well as grains increase their digestibility when cooked. To lose as few nutrients as possible, steam the grains and vegetables you cook, the vegetables only until tender-crisp. A Stainless Steel electric steamer or multi-cooker is super to have. A Stainless Steel pan insert is good too, though I prefer the timer and preset ease of use on the electric ones.
You can get stovetop steamers of many kinds. Stainless steel steamers come in various sizes to fit the pans you use, (some even come with them. See the Fagor Pressure pans I love. More info on our Cook and Bakeware page,)  or even an inexpensive collapsable model that will fit any pan. (Those aren't the easiest ones to use, but they are cheap.) Silicone steaming baskets are also available.  Bamboo steamers are also considered a good choice, but I've never used them. Be sure to buy the right size of bamboo steamer to fit in your pan. The pan should be about 2″ larger than the steamer.
Steaming your food is usually not a major lifestyle change and you can begin with a stainless steel collapsible insert for vegetables for just a few dollars if you are unable to afford anything else right now. The electric steamers also are great for so much more, including reheating leftovers. See, you really don't need a microwave! We also like to do grains, as well as soups and casseroles in our Crock Pot.
So … on to the electric steamers.
When we began steaming foods, we used a Black & Decker HS2776 Double-Decker Flavor-Scenter Steamer Deluxe Food Steamer
, plastic vegetable steamer/rice cooker, because I won't use pans with non-stick coatings, and this one was big enough for our family. This inexpensive plastic steamer/rice cooker held up and performed well. We used it every day for years. It works great for steaming vegetables, cooking rice and other grains, and reheating leftovers. But I'd prefer to do without that plastic, so these aren't really recommendations. [Oster has a newer model that is digital and has more feaures, but a little smaller size, if you're really wanting to go this route. Oster 5712 Electronic 2-Tier 6.1-Quart Food Steamer
.]
So … I was still on the lookout for a stainless steel rice cooker/steamer, and hoping to find one that would also hold a larger quantity. (We got to where we really needed a bigger rice bowl.) We found the Miracle ME-81. Finally, there was an electric rice cooker that has a pure stainless steel rice bowl. The Stainless Steel Rice Cooker Model ME81 
is the only electric grain cooker/steamer that we found (at that time) that does not have a non-stick coating on the rice bowl, and we love it for grain cooking. We cook brown rice, quinoa, oats, and steam vegetables but I never realized its complete versatility until I started searching online for recipes. Wow! But it's steamer insert is not large enough for everything for us, so we still had to use a stainless steel pan insert steamer on the stove or that electric (plastic) steamer for steaming vegetables.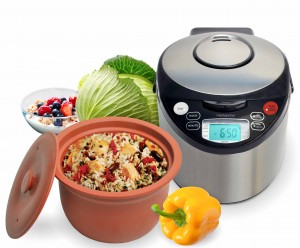 Next, we found an electronic rice cooker/slow cooker that comes with a unglazed clay bowl, (now called) the VitaClay Smart Organic MultiCooker. Nice! No chemical glaze such as on other slow cookers. It also has many other handy features, such as fully programable and fast pre-heat. This multi-cooker can also steam veggies, (by adding your own steamer basket,) and make yogurt. I'm probably most excited about this because I know and love the features of cooking with clay (as you'll see in my stoneware notes on the cookware page.) VitaClay cooks up to 8 cups (dry) rice, or can be used as a 4.2 qt. slow cooker. (Smaller size also available.) However, I didn't buy this cooker, as I hadn't satisfied my research into its quality of performance over time. It was a bit sketchy and new, and availability over time uncertain, at the time I originally wrote this article. [Update: Time has shown the VitaClay to have favorable reviews with updated models, but …]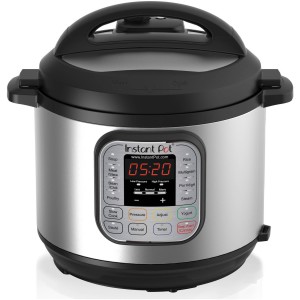 [Update:] In the meantime, we have now added another multi-purpose cooker for steaming and grain cooking that I LOVE! It is even more versatile than our Miracle Stainless Steel Rice Cooker, larger than the VitaClay, and has more features than either. It is the Instant Pot DUO60. This 6 qt. 7-in-1 Multi-functional Cooker with stainless steel pan is not only a steamer and rice cooker, but also a slow cooker, pressure cooker, yogurt maker, browner, and warmer. My Miracle Rice Cooker may be about ready for retirement. And (for now anyhow) the larger size and addition of the pressure cooking feature will probably keep me choosing this over the VitaClay.