Quick and easy, delicious and filling, and Good for You-Naturally!™ Those are the criteria I am looking for in developing most of my recipes (and looking for in others' that I try). In other words, Freedom & Simplicity™ that's Good for You-Naturally!™ This one fits the ticket!
It's a recipe that had become buried in the box. We used to really enjoy it but somehow it hadn't been made recently, and certainly not since I'd got my Instant Pot. It was time for it to come back to life. Especially now when I needed something quick and easy (time was short), something warm and hearty (spring blizzards are no fun), and as always, something both very yummy and health promoting.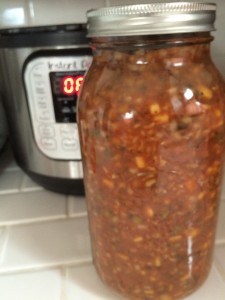 Here's my recipe as I developed it years ago. Below that is my adaptations yesterday, when we were in a hurry. We all dove in and I didn't think to take a pic until I was jarring up the leftovers. Yes, it makes a pot full! Fantastic lunch for today.
Lisa's Veggie & Lentil Stew
(all ingredients are organic here, get as many as you can that way)
12 c. purified water (approx.)
1 c. brown rice
1.5 cups lentils (dried)
1/4 tsp. dried minced garlic (approx.)
2 tsp. dried basil
3 bay leaves (optional)
1-2 tsp. dried parsley
1 chopped onion (or 3-4 Tbl. dried minced)
4 stalks celery, chopped (or a handful dried)
2 carrots, sliced
1-2 cups corn
1-2 cups peas
2 cups green beans
2 cups tomato sauce (or whatever they've shrunk that can down to now)
1 qt. crushed tomatoes (or whatever they've shrunk that can down to now)
nice squirt of Bragg's liquid aminos
Add it all to the pot and simmer until done.
How it came together yesterday:
Was out of bay leaves, so they truly are optional. Used dried onion and celery. Had a big bag of frozen mixed vegetables on hand–carrots, corn, peas, green beans. Well how perfect is that?! I used 4 cups of the mix, and added an extra cup of frozen corn. I threw everything into my Instant Pot (6 qt.), filling with water to about the 4 L line. I have no clue how much water that was. I hit the buttons for high pressure and 22 minutes (the time needed for brown rice, the longest cooking ingredient) and left for Good Friday church service. We got home to stew done and on Keep Warm. (i.e. Natural Pressure Release–it was full enough it probably would have splattered if I tried to Quick Release.) The water was all absorbed, so I added more. Served it with fresh veggie sticks, and whole grain oatmeal muffins.
Mm-mm Good for You-Naturally!™ Mushrooms would have been a fantastic add-in (that I will add to the recipe card), but didn't think of at the time (and not sure I had any on hand.)
Let me know if you make this recipe and how you like it!
[subscribe2]