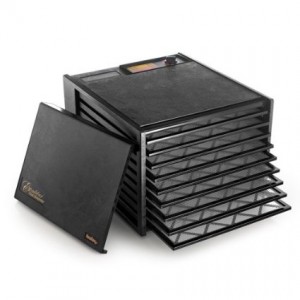 The Excalibur 3900 is my favorite dehydrator, and it lives on my kitchen counter. Whether you're a gardener, hunter, bulk shopper, raw foodie, or just a family looking to eat healthier, this addition to your kitchen will make life easier.
Excalibur has been "the" dehydrator in the raw food community, Culinary Institutes, and restaurants for 35 years. It is a great home dehydrator also. It is Made in America. It has the fan in the back (for the air to evenly cover each tray), nearly square slide-in trays (with no center holes, and convenient loading/ unloading), and temp settings from 95°/105 – 155°/165 F.
One advantage I love about the Excalibur is that by removing trays, you create a larger space to put larger things in it–such as taller jars for making yogurt, or baking pans for dehydrating bars or raising bread.
Screens are included (for dehydrating solid food). Solid sheets (for fruit leathers and other non-solid foods) are available as Premium (non-stick) or Ultra (silicone). I highly recommend the silicone "Ultra" ones as a safer/healthier option. (Purchase separately).
Read more about choosing a dehydrator–Modern Maidservant #4.
Product Features:
9 trays and 15 square feet of drying space.
No moving food or trays during dehydration.
Adjustable Thermostat 105 to 165 degrees Fahrenheit. Safe to dry meat for jerky.
Accurate temperature controls to dry fruits, vegetables, meats, flowers, herbs, pet treats, arts & crafts.
Dehydrate faster with square trays that hold more food.
Remove trays as needed to increase the height needed to dehydrate bulky items or raise dough.
7-inch fan, 600 watts. Unit Dimensions: 12-1/2 H x 17 W x 19 D (inches)
The 3900 is my favorite model of Excalibur, and it is currently marked down greatly at Amazon. Click Purchase, or the image to order.