Homemade Almond Milk has become our usual choice here. It is so easy and quick, and tastes delicious and can be used in all recipes.
However, occasionally someone needs it NOW, and almonds haven't been soaked and they don't want to take the minute to strain, yada yada.
Frankly, if you have a BlendTec or Vitamix you can blend unsoaked almonds if needed, AND you can use fresh Almond Milk without straining (or use off the top and strain the rest later). But …
For those that want Instant Almond Milk NOW, here's your hack.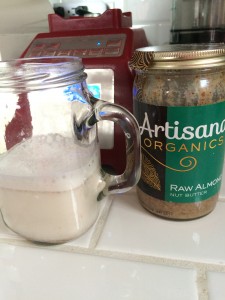 1 cup purified water
1 Tbl. (raw, organic) almond butter (should be able to finder cheaper local source)
Blend till mixed thoroughly.
That's it!
Disclaimer: I don't believe this is as good as fresh almond milk. IMO, it is for quick use, when you need it now. If you don't use it right away, you will need to shake or stir, as it will separate.
[subscribe2]