Beets are a great cleansing food. Fantastic to add to our fresh juices, green smoothies, and grated in our fresh salads. The rich red color indicates a high level of antioxidants. They are also anti-inflammatory and a great detoxifier.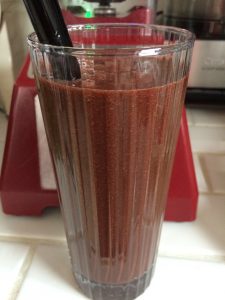 This delicious green smoothie, that doesn't look very green despite the fact that it has twice as much greens as everything else put together, is higher on veggies, including beet, and lower on fruits than others. But beets and carrots are both naturally sweet, so this is not a bitter, or even savory smoothie. If you aren't used to eating beets, you may want to start with 1/4 beet, and gradually work up in the amount you include here, due to the cleansing properties. I've given amounts to start with. You can certainly add more veggies than listed in the recipe.
Can('t) be Beet Veggie-Berry Green Smoothie
1/4+ beet with greens (from whole beet)
1+ carrot
1+ celery stalk
handful strawberries
large handful (or 2) baby spinach
1 Tbl. fresh ground flax seed
water kefir (or purified water)
As always ingredients should all be organic, as much as you are able to find. Strawberries are #1 on the Dirty Dozen list for pesticides. Celery and Spinach are also in the top 12.
Blend till smooth, in a high performance blender. Enjoy!
What was in your Green Smoothie today? Comment below!
[subscribe2]