Food happens with you start throwing things together. Good food.
Put my blueberries in before cooking my steel cut oats in my Instant Pot, because they were frozen. Had some homemade coconut yogurt I wanted to eat up. Have been experimenting with date paste as sweetener in more recipes, so had a bit of that left to use. And, as always, a sprinkle of a Tbl. of ground Flax Seed always boosts the goodness.
Result? FANTASTIC tasting Breakfast!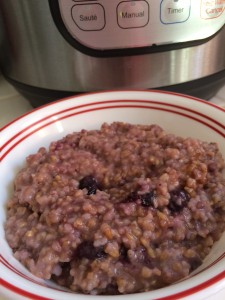 What did you fuel your day with today?
[subscribe2]