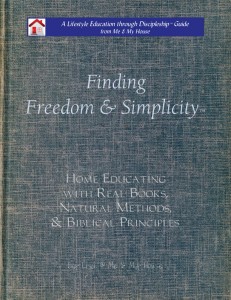 Our newest Lifestyle Education through Discipleship™ Guide has been released! This guide will be a great help and introduction to those new to home education or veteran home educators looking for a change from typical school-at-home to a more family lifestyle approach to biblical home education.
Finding Freedom & Simplicity™: Home Educating with Real Books, Natural Methods, & Biblical Principles is available to download now at the Introductory price of only $3. But the first 7 people to order it today can get it for FREE with this Coupon Code: FINDINGFREE. All I ask in exchange is that if you find the guide helpful, you post a review/comment on its order page and recommend it to your friends.  Enjoy! 
If the Coupon Code doesn't work, the limit of free copies has been reached. It'll be worth your 3 bucks though.