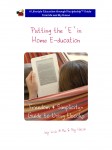 Freedom & Simplicity™ Guide to Using Ebooks
Ebooks are the new kid on the block, and they come in about as many varieties as printed books. What you may be most familiar with are home education supplements, activities such as lapbooks, copywork, notebooking or journal pages, and worksheets that are offered as pdf downloads to your computer, that open and are viewed with Adobe Reader or Preview. At the other end of the spectrum are the latest main stream, pop books–current "best sellers" that are available for e-reading devices, such as Kindle, Reader and NOOK. In between are classic literature, reference works, home keeping, repair, recipes and other how-to books, business advice, home ed helps for mom, full curriculum and text books, and every other type of once-printed information, available now in various e-formats.
So much new technology it may have you confused–or at least leave you with questions. What exactly are ebooks? How are they used? What if I don't have a e-reader device? Are they of any benefit to home education? I love real books, am I a sell out to get an ebook? This Freedom & Simplicity™ Guide to Using Ebooks will answer these questions and help you get started using some great FREE resources that enhance your Lifestyle Education through Discipleship™!
Part of our "Dirt Cheap" line of Freedom & Simplicity™ Guides
$4.95 Special $3.00
available in pdf, Kindle and epub formats
If you've purchased and use this resource, leave a review in the comments below.