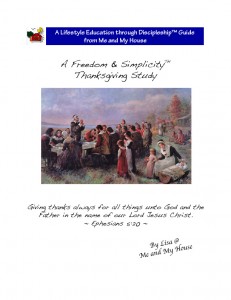 Time to get your ThanksGiving Studies under way. Whether you choose to spend 1 day, 1 week, or this whole month studying about the foundations of this Holiday, as well as the attitude of gratitude, we've got a great guide to help you in your studies.
Freedom & Simplicity™ ThanksGiving Study covers:
HisStory: His Word on Thankfulness
HisStory: The Pilgrims
HisStory: Thanksgiving Day
HisStory: In Your Life
This guide covers what to study, how to study, and how to document your study. Free online resources are included along with great print resources.
Click for more info and to order.
Order by November 15, 2013 for $5 off!
Use the Coupon Code: THANKS