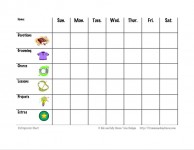 Easy "Recordkeeping" for the Little Ones
This Master pack of 9 reproducible charts includes 3 types of charts, and 2-4 variations of each. Blank charts also included for your convenience. Print out which you need, when you need it.

The (Original) Refrigerator Charts and the My Daily Duties/ Responsibilities Charts are a basic, responsibility down the left side and days of the week across the top, type chart. The Refrigerator Charts have 6 basic categories of responsibilities. The Daily Duties/ Responsibilities Charts have 17, more specific duties. The other 2 files are Learning Maps – that is colorful, pictorial graphic organizers (mind-maps) of responsibilities. These are my favorites! We call them Books of Remembrance. Most of our Books of Remembrance are Journals we write, but these 2 are to help us remember our responsibilities. These 2 don't have daily spaces to mark off. They are just a colorful reminder.

$7
Format: pdf
---
 If you've purchased and use this resource, leave a review to the comments below.