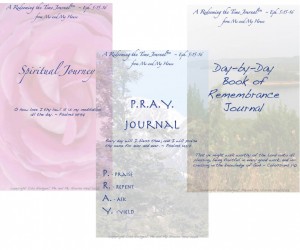 Favorite Forms includes Redeeming the Time Journal™ master forms for 3 areas of journaling: Spiritual Journey, P.R.A.Y., and Day-by-Day Book of Remembrance. There are 12 different designs for each form, in additions to other options, making this resource over 110 pages.
This set produces forms that will fit in a "half-sheet" size (5.5″ x 8.5″) binder, or you can have them spiral bound.
Spiritual Journey – presented in a simplified format of "R Road to Biblical Wisdom", for journaling daily Bible reading – 12 designs, 2 pages each.
P.R.A.Y. – prayer journal pages reminding you to offer Praise and thanksgiving, Repent, Ask for your needs and those of others, and Yield your life to follow and obey God – 12 designs, 2 pages each.
Day-by-Day Book of Remembrance Journal – daily journal of life and learning – 12 designs, 3 formats for a week-at-a-glance on a 1 or 2 page spread.
Paper planners and Journals still have their place in our digital society. In fact the Redeeming the Time Journal™ combines the best of digital and print formats. We provide you with a digital file of master forms, and you create your own cutomized printed personal journal and master planner with them. With the digital forms on your computer, you can pick and choose which ones and how many of each to print out for your own needs. And you have many beautiful backgrounds and fonts to choose from. Choose your favorite or mix and match.
$10
Format: pdf
---
If you've purchased and use this resource, leave a review in the comments below.