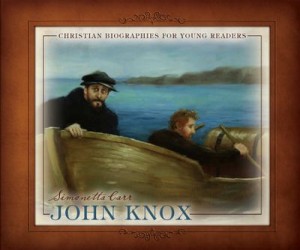 You may not think the life of a tutor or pastor sound very adventurous, but John Knox's life was filled with more dangers, risks and turns of events than most of us would want.
John Knox was a small, unassuming man, who began his career as a notary, probably a quiet job and life. Next he became a tutor for 3 boys from 2 families. Knox had, about that same time, heard the good news of salvation through faith alone, and although this was during the troubled times of the Reformation, there was some freedom and peace in his home country of Scotland at that time.
But his quiet life didn't last long. Scotland stopped the freedom the Protestants had been given, but that didn't stop the Protestants from proclaiming the gospel. George Wishart was a prominent preacher at that time, and Knox became a bodyguard for him. After Wishart was captured and put to death, Knox went on to take refuge in a castle that got bombed, become a pastor, get captured and serve 19 months as a galley slave. And this is just the beginnings of his story. Later in his life he flees the country, confronts a queen, and is almost assassinated.
Simonetta Carr does a great job of telling Knox's story in her brief biography for children. Several features, in addition to the story itself, make this book a great addition to your home library. Before the story, a colored map show the key places mentioned in the story, so you can follow his life's travels. After the story, a timeline of his life helps you see the sequence and time frames at a glance. I love the "Did you know?" pages with paragraphs of additional information about Knox, other key people of that time, and life at that time. Like the other books in this series, John Knox is a beautiful hardback with great illustrations and photos throughout.
John Knox is the seventh in Ms. Carr's series of Christian Biographies for Young Readers. My children and I have enjoyed reading all the books in this series, and I highly recommend them to Christian parents to introduce their children to, not only the life stories of Christian leaders of the past, but also the roles they played in key events in the history of the church. From John Knox, they will learn from his example how to stand boldly for the truth of the Word of God, how to trust God through great trials, and much more.
*Note: I received a complimentary copy of John Knox in exchange for my honest review of it. Thank you to Cross Focused Reviews, the author Simonetta Carr, and the publisher Reformation Heritage Books.
Purchase from CBD:
Purchase from Amazon.com:

This post contains affiliate links.
[subscribe2]