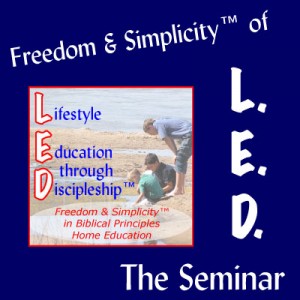 Equipping You to Teach for Discipleship for Life!™
Foundational information for starting Lifestyle Education through Discipleship™. These recordings of a LIVE Seminar will walk you through the Biblical foundations and vision of education, the principles L.E.D. is based upon, and how to make practical applications in your own home.
The L.E.D. Seminar will equip you to teach Discipleship for Life!™
How to educate from a Biblical Worldview
How to teach Biblical Principles in all of Life, and every "school subject"
How to teach multiple ages – without cloning yourself
How to disciple your children for God's purpose for their lives
How to use Real Books and Natural methods for Excellence
Hands-on application included
Make the Biblical excellence of the Principle Approach family friendly, and the Natural learning of Charlotte Mason methods Biblically grounded, arrange them into multi-level topical studies and you're off!
Real Books and Family-Friendly Natural Methods
+ Biblical Foundations and Reasoning for Excellence 
= Freedom & Simplicity™ in Biblical Home Education
Includes audio recordings of all sessions of this full day seminar, plus all handouts and slides.
See more information here.
$30
Format: mp3 audios, ppt slides, pdf handouts
If you've purchased and use this resource, leave a review in the comments below.