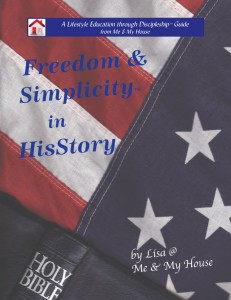 A L.E.D. Guide to Learning & Teaching HisStory
Everything has a history and it is all His Story.  HisStory is the backbone of our studies, and is taught as the story of God working His plan through individuals and nations.
This L.E.D. Freedom & Simplicity™ Guide will walk you step by step through the process of learning and teaching HisStory by Biblical Principles. These steps begin with the Biblical foundations, principles, and rudiments of HisStory, and move through the processes for studying and planning, to presenting and documenting the lessons. An overview of what to study is provided – time period divisions and content/ aspects within them, as well as suggested resources. (approx. 100 pages of rich information)
Learn how to plan, teach, and document a L.E.D. study of History.
Click for Free Sampler. See Table of Contents.
FREE BONUS! PIPEline Journal Pages – 10 reproducible Notebooking pages you'll use over and over in your studies of HisStory.
$25.00 Special $20.00
Format: pdf ebook

Great companion resource to PIPEline of HisStory and PIPEline Book of Remembrance. See PIPEline Book of Remembrance page for Combo price for all 3.
If you've purchased and use this resource, leave a review in the comments below.