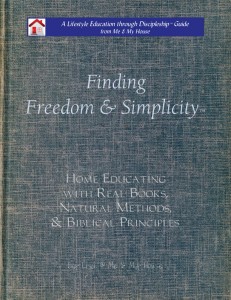 How do you break out of the box of "school at home" that looks much like the public schools (in method, if not content)? Whether you're new to home education or just ready for a change, Finding Freedom & Simplicity™ will introduce you to using Real Books, Natural Learning Methods and Biblical Principles for a family lifestyle approach to education for all ages.
Learn what Real Books are, how to choose them and where to get them; what Natural Learning Methods we use and how to document your studies; what makes a Biblical Christian education, how to found all your studies on God's Word, and how to use Biblical Principles to bring application of your studies to your own life. All of this is packed into a short, easy read, giving you the keys to Freedom & Simplicity™ in biblical home education. For those that want more, suggestions are given for resources to deepen your understanding and application of this approach.
$5 Introductory Special $3
Format: pdf ebook
If you've purchased and use this resource, leave a review in the comments below.