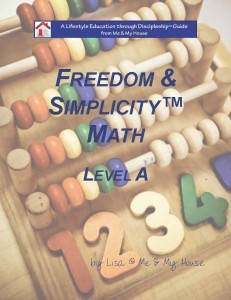 Did you really think you needed an expensive program and props to teach your beginners? Think again. This little guide covers it all and can be done with real household items (and a few fun helps if you want) and in Freedom & Simplicity™. Nothing else needed. Give your child a great start in understanding real math, as connected to God's Creation, not workbook pages presenting some abstract theory.
Yes, all the Math instruction you need for 1 full year. This resource gives you all you need. But it is not a workbook and does not include daily lesson plans, etc. It follows the real life methods presented in the rest of our website and resources.
Only $5
Format: pdf ebook
See more optional fun resources that you can add – here.
Levels B & C coming soon.
If you've purchased and use this resource, leave a review in the comments below.