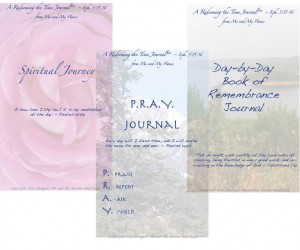 One of the Prayer Projects we utilize with our children is a P.R.A.Y. Journal. This is for them to record their prayers, giving them 4 areas to pray about, using the acronym P.R.A.Y. Daily specifics are written for each area. We want to teach them to think about their prayers, not utter vain repetitions.
P. is for Praise and Thanksgiving. We write our Praise to God and what we are Thankful to Him for.

R. is for Repentance. We ask for forgiveness and help to turn away from our sins.

A. is for Ask. We ask that our needs and those of others be met.

Y. is for Yield. We surrender all to Him, for His service.
We utilize pretty P.R.A.Y. Journal pages that are 1/2 letter size. You can put them in a 8.5 x 5.5″ binder, or spiral or comb-bind them. (Spiral is probably the easiest for children to use them.) Utilizing these journal pages works best, at least until the children are old hats at this, because each page has a section labeled as to what area they are to pray and write about.  There are many styles to choose from, showing the wonders of God's creation. You can make a whole journal of just your one favorite, or mix and match them for variety.
If you don't want to print off a page for each day and bind them, you can just print off the instructional page and paste it into the front of a Composition Notebook, to serve as a reminder of what to pray for and write. This works OK with older children who are already doing P.R.A.Y. Journals well, but is not as helpful for younger children or those just starting.
Enjoy this helpful way of teaching your children to Pray through Journaling. It is an awesome tool for both your children and yourself.
See other ways we help our children learn to pray here.