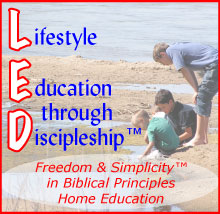 Tomorrow's a pretty special day, a day we only see every 4 years. So I figured it's time for a party! And at this party we are going to lavish our guests with some really super helpful resources. The party will be held over on our Lifestyle Education through Discipleship™ Facebook Page and the giveaways and specials will be hosted here on this blog.
From 9 a.m. to 9 p.m. on 2-29-12 we will be posting 29 minute giveaways and specials on L.E.D. Freedom & Simplicity™ resources, for Biblically principled home education – and talking about what L.E.D. is and isn't.
"Like" our L.E.D. Facebook page today and watch for the party posts tomorrow!  If you aren't on Facebook, just check this blog throughout the day tomorrow for the 29 minute giveaways and specials posts.
What a GREAT OPPORTUNITY to learn more about Lifestyle Education thorugh Discipleship™!
See you in the morning!