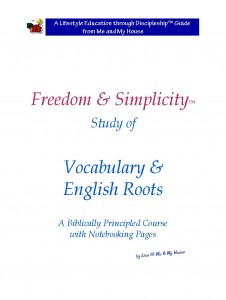 A Biblical Principles Course
with Notebooking Pages
Words have meanings. And knowing the meanings of a wide variety of words and how to use them properly helps us communicate more precisely to others so they can understand us better. It also is a great help in learning more new words.
If you plan to go to college, a study of English Vocabulary is important. If you plan to converse with others effectively (and I hope you do) it is vital.
This Freedom & Simplicity™ resource provides the tools you need to effectively study Vocabulary, so you can effectively use it in communication. Follow the R Road process to reason through several types of word studies, and Journal these studies on the provided notebooking forms. Rather than a full list of words to study, this course gives you the tools to study any word! Why do Word Studies? Read here.
$10.00 Introductory Special $5.00
Format: pdf ebook

If you've purchased and use this resource, leave a review in the comments below.