It's been over 3 months since I've updated on my Studio re-do. Many changes have been made, including complete rearrangement, but I still have a ways to go before it is finished.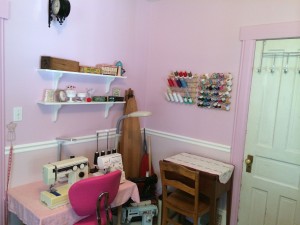 The paper crafting station has moved. This is now my primary sewing corner, well, non-treadle corner anyhow.  My "non-vintage" Riccar sewing machine and new Janome serger are on the sewing table, and 1956 Singer 99K, "Roxie Anne," in the cabinet. The 2 machines not housed (on the floor) are my 1952 Singer 15-91, "Louise," and the "Dressmaker" Japanese zigzag c. 1950s. I haven't used them much yet, (the Dressmaker needs a cord and 15-91 could use a new one.) I'm still debating whether to make a cover for the wooden ironing board and use it, or leave it as is. The sewing box and child's iron on the shelves are from my childhood. The red child's ironing board is a recent find, as I don't have my childhood one anymore.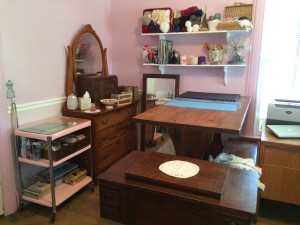 Where my sewing machines were is now my storage and cutting area. I moved the trestle table back up from the family room, and put it back up on risers for a perfect height cutting and pressing table. The dresser holds sewing basics and other supplies in the drawers, a 1922 White Family Rotary sewing machine in the bentwood case, "Betty", and a drawer that survived a fire, from my dad's wife's cabinet that held her 1948 Singer 201-2 "Pamela". (Buttons are in the cigar boxes.) Yarn, and cutting and ironing tools are housed on the shelves. And yes, the fan works, and is a great addition to the room as the weather warms up. The rolling cart holds all my ribbon, and rulers for cutting. At the end of the cutting table is my National 2 Spool (c. 1925) treadle sewing machine, "Maggie", after Margaret Thatcher born in 1925. (Article coming soon.) (The mirror is now moved to behind the main door.)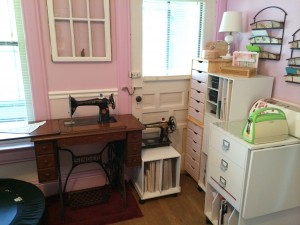 My papercrafting corner has just moved down the wall to the other side of the door. Ruthie & Jocabed, my 1929 Singer 66 treadle and 1892 Singer 27 (also treadle, but doesn't have its own cabinet) join the paper crafting storage in this bright corner. A drop down tabletop on the white cabinet, as well as the sewing cabinet top provide work space. My Needak rebounder, for exercise, rounds out this space. (The door to the outside is not used.)
2 things are not shown. My large, 6′ oak desk is in the other corner of the room. You can see a corner of the desk, with a printer and computer, next to the cutting table. Writing, bookkeeping, printing are all done there, so it is a mess. Since it has windows on 2 sides of it, maybe I'll get a picture of it when I get my curtains made and post another update.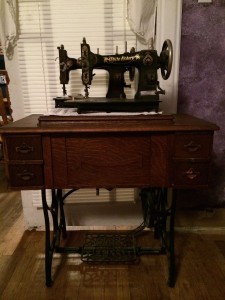 My 1929 White Family Rotary treadle with cabinet (front), "Audrey" after Audrey Hepburn born in 1929, and (locked up and a bit rusty) 1916 White Family Rotary (with no house – back) have been moved to my bedroom, where my Riccar and serger table used to be. I don't have either of them cleaned and up and running yet. More projects for another day.
For now, I need to be using these machines and get some sewing and a few other projects done – such as the curtains, crib skirt, and pillow, (for the new grandbabe coming soon,) and the 2 clothes pin bags that I've made this week.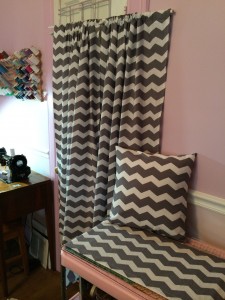 I am loving my new workspaces. They are so convenient and a delight to work in. I love that all my work can be done in this one room. No more cutting out in one room, sewing in another, crafting somewhere else. My tools are always at hand and ready to use. (Well, all sewing storage doesn't fit in here, patterns, fabric stash, misc. supplies, etc. but …) I can leave projects out while I work on them. My hope is to finish the curtains and other sewing decor, put up some more shelving and other wall decor, and refinish the doors, in my studio this summer. Then I'll update again.
[subscribe2]
SaveSave
SaveSave