Many old things bring a smile to my face. I love the time I live in, with all the technology and convenience. (I'm sure not complaining.) But I also love old things. My design studio is slowly becoming new with more old things.
I picked this up at a thrift store for $2. It was trashed, but I saw potential. May not be the quality of an old oak piece, but it will make a great craft/ design work table, with a little TLC.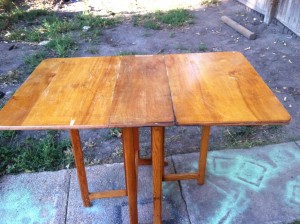 A little paint later and it's about there. (Still need to sand and add another coat.) In the background you can see another new/old find. The white rolling cart, from an antique store, also needs some TLC – sanding and fresh paint. I'm considering doing it in pink. You can also see my newest old thing behind the table. No not the pink chair – it's new – and getting a slip cover. Behind that. Come back tomorrow to read about it.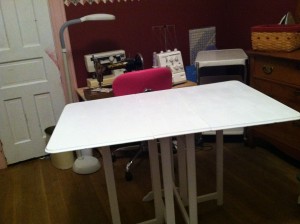 [subscribe2]