I've been having fun making flash cards this week – and I don't mean the kind you drill children in educational facts with. I've been making greeting cards with the Flash Card and Flash Card 2.0 templates by Connie Stewart. Flash Cards are rectangles of card stock that you pre-cut and have on hand to create cards in a flash. You're able to create 8 cards from 1 sheet of colored card stock and 1 sheet of neutral card stock (plus card bases).
I've created a few of each – modifying Connie's designs to fit my supplies and likes. Take a peek at some of them.
Flash Cards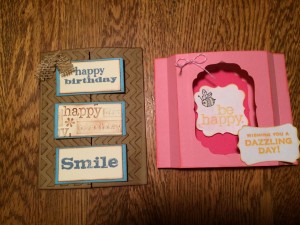 Connie's videos that provided inspiration for these: left to right –  (gatefold)  Tri-Fun Fold, (shadowbox) Stand-Up.
Flash Cards 2.0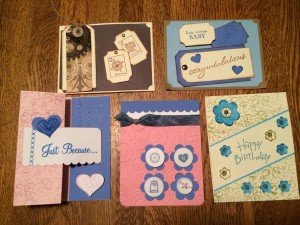 Top row, my own design. Links to Connie's videos that provided inspiration for cards on the bottom row, left to right: Amazing Friend, Soft n Sweet, Happy Valentines.
Where do you get inspiration, when making cards? Have you ever used Connie's Flash Card templates. If so, post below.
[subscribe2]