I'd been looking at Vibrating Shuttle sewing machines. They intrigued me yet kind of scared me off, being different. But I still wanted to see if I could meet the challenge of getting one up and running. I stumbled upon one; she was part of the trio that followed me home. The other machines were: a) going to be a huge or impossible project, b) not really something that is high on my list. But this Singer 27 was something I wanted and worth tackling; though covered with much dirt and dust, she moved freely and wasn't too badly gunked up inside. The price was right. Even if I couldn't get her running, I was only out a couple bucks.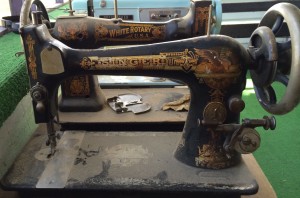 Jocabed is a Singer model 27-1. She was made in 1892. The Singer model 27 is a vibrating shuttle, meaning instead of having a round bobbin and bobbin case, she has a bullet shaped bobbin case and a long bobbin. Her shuttle swings in an arch from front to back. The 2 sliding plates to the right of the needle indicate the shuttle/ long bobbin. The silver colored "shovel", at the left of the arm, are also indicative of this model.
Her decals are called the Sphinx pattern, with the Sphinx in the upper corner where her arm and pillar meet. Jocabed's decals are worn, and in many places "silvered", meaning the gold color has been eaten away.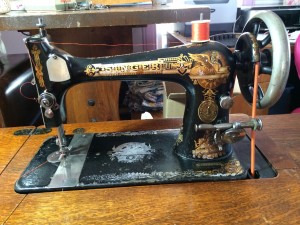 Her tension doesn't automatically release, like later machines do. You must press and hold the tab under the tension screw to release it. She required taking the tension completely apart. This was a first for me, so was done with fear and trembling for getting it back together correctly. But I did it.
She came unhoused (just the head, no case or cabinet.) She is shown here in my 66 treadle cabinet, which I used to test her out. It wasn't a good fit, so I need to find another option. But we all got to sew on her a bit, including 4 of the grands that I taught to treadle on her.
I named her Jocabed after Moses' mother, an Israelite in slavery in Egypt.
[subscribe2]
SaveSave