Slowly but surely I'm making progress in re-doing my design studio. The crafting corner is getting there, and is organized anyhow.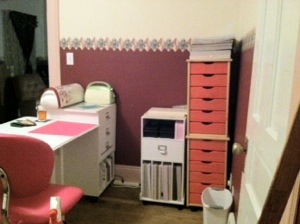 The tall drawer stacks, to the right, hold stamps, embossing folders, dies and Cuttlebug supplies, heat embossing supplies, punches, ribbon and washie tape, paper scraps, envelopes, paper bags, and other paper misc.
The shorter white stack holds 12×12 paper, card stock, and chipboard. The drawer holds embellishments and markers. The shelf holds ink pads and blending tools. On top is my exacto mat, score board and paper trimmer.
The workstation to the left holds my Cricut and Cuttlebug, small rotary mat and a Cricut mat, to keep it handy. Other Cricut mats are on the side. The drawers hold tools- scissors, other cutters, rulers, Cricut tools, stapler, etc. , adhesives-tapes, ATG, glues, glue gun, glue dots, foam dimensionals, magnets, etc, and paper flowers. The slots at the bottom hold 8.5×11 card stock, grunge board, and other smaller papers, stickers, mod podge, etc.
As you can see on the tall drawers, I still need another paper cube. I thought the work station slots would hold that size, but didn't, so now I need another one. Other than that, and the fact that I haven't painted yet–and added a shelf for my Cricut cartridges, I'm loving it. Everything is organized and ready at hand.
[subscribe2]