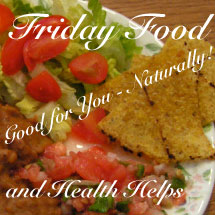 It's getting cold and that means some mornings we want more than just our fresh juice or green smoothies. We want warm belly. One of our favorites is Apple Crisp. I say this recipe makes 4-6 servings; we double it for our family of 7-8. But that's for eating it by itself for breakfast, not as a dessert after supper, which you also could do. Recipe from Good for You-Naturally!™ Weekly Menu & Recipes ~ Level 1 – over 60 recipes and complete menu for transitioning to whole foods that are Good for You-Naturally!™
Apple Crisp

⅓ cup Raw Coconut Oil or Organic Butter
¼ cup Raw Honey
⅓ cup fresh-ground Whole Wheat Flour OR **fresh ground Oat Flour
1 cup rolled Oats
½ teaspoon ground Cinnamon
2 – 2 1/2 cups Apples, cored and sliced (about 1/4" thick) (or other fruit)

Cream Coconut Oil and Honey Lightly cut in Flour, Oats and Cinnamon (with fork – or mix with hands) Spread Apples evenly over bottom of 2 qt. rectangle baking pan (about 7×11) or square cake pan Crumble Topping over Apples Bake at 350° for 25-35 min. until Apples are tender.

Tip! Oat Flour is simple to make with Rolled Oats. Just toss Oats into the blender and blend until flour.

Tip! Double or Triple this recipe will fit in a 9X13 pan.

Tip! Make very cute individual servings, by dividing ingredients out into 1/2 pint, wide mouth canning jars to bake and serve.
Bon Appétit!