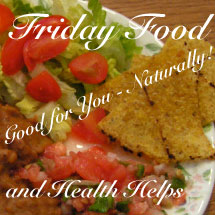 This is a very moist – no frosting needed – Good for You-Naturally!™ cake that can be made for a quick dessert or snack. It has many variations (see Good for You-Naturally!™ Simply Snacks recipe book). Today I'm sharing the one we had this week.
.
Lisa's Good for You-Naturally!™ Oatmeal Spice Crazy Cake
1 c. fresh ground, organic whole wheat pastry flour (you can use regular whole wheat – and sift out the bran, if you want, or leave it in)
1 c. organic rolled oats
1 1/2 tsp. baking soda
1/2 tsp. baking powder (non-aluminum, such as Rumford's)
1 tsp. organic ground cinnamon
1/2 tsp. organic ground nutmeg
1/2 tsp. organic ground allspice
Mix together well in an 8-9″ square or round stainless steel or glass cake pan.
Make a depression in the center of these dry ingredients, and pour in:
1 cup hot purified water
1/3 cup raw, organic coconut oil (melt it in the hot water first)
1/3 cup raw honey
1 tsp. raw organic apple cider vinegar
Mix these liquid ingredients all together well (in the depression you made) before combining with the dry ingredients. (Of course, you can dirty up a mixing bowl instead if you want.)
Mix liquid and dry ingredients together well. Be sure to get all dry ingredients from sides and bottom of pan, and consistency is even throughout.
Bake at 350° for approx. 25-30 minutes.
"O taste and see that the Lord is good."