I just realized I haven't updated this blog all summer. It's been a whirlwind. I planned a mini-family reunion when my dad's half-sisters came to visit, shortly after my last post.
I've spent many hours in the orthodontist with our son – and a couple at the dentist with another son, and the Dr. with yet another son. Many hours on the baseball fields watching all our sons.
Attended Teach Them Diligently conference with our whole family. YEA!! It was great! Stopped to spend some time with my dad and his wife at the hospital, when she went in for surgery 3.5 hours away from us, on our way for vacation to see our second daughter. (Miss those grandbabes.) Did a bi-monthly Bible Study with a friend.
Celebrated more family birthdays in 2 months than most families have total. Planned, prepared for, made a lot of out of town trips for, made a lot of necessities for and did a lot of consulting for our 5th daughter's wedding. At the end of June they decided to get married in August. We did everything ourselves – except sew the clothes, and daughter did much of the decor making herself. But that's where my summer mainly went.
But all of that is old news now. Daughter is happily married as of last Saturday, and on Monday the furniture moving began. We changed up some bedrooms. The bedroom for our 2 youngest, that also held my office desk and some sewing supplies, became my studio/office – no longer shared with children. That's my something new.
Here's a couple pictures of the very beginnings. There is much to do – paint, shelves, storage, etc. That will take much time. But I figured this is a good start to sharing much more in this category of sewing and craft projects – fabric, yarn, paper crafts, DIY, etc. I've done so many projects (with all those birthdays) but never think – or take time – to post them. I'm beginning today.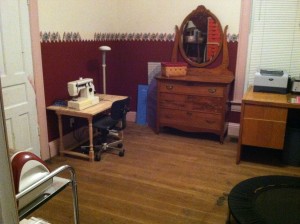 Notice the missing serger. It's been out of commission all summer too.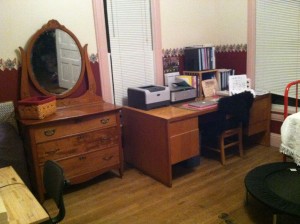 Oh, and exercise room too! (Note the Rebounder. My choice for exercise.)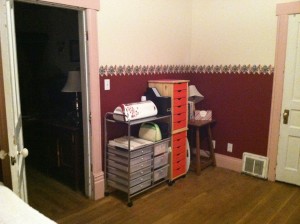 My Cricut and Cuttlebug have been getting lots of workouts with all the birthdays this summer. The drawers are new, to house many new papercrafting supplies this summer.
[subscribe2]