I finally have my raised beds again!!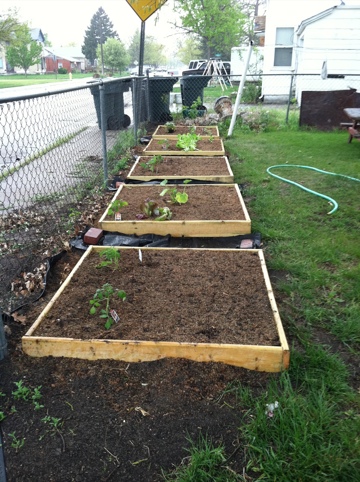 Square foot, raised bed, organic gardening is the only way to go, in my opinion. I miss all the open, sunny room I used to have for beds. But this is what I have here. And I am so grateful to have it.
In this small space I have 5 tomatoes, 3 peppers, 1 zucchini, 48 lettuce, 30 spinach, 72 green bean, 128 radish, 168 carrot, 24 kohlrabi, 8 strawberry, 4 cucumber, 8 sweet potatoes. I think. Give or take.
For Me & My House,
Lisa @ Me & My House
Keep in touch by "Liking" us on Facebook @ MeAndMyHouse and subscribing to my free email newsletter, Me & My House musings, as well as subscribing to my feed here.
[subscribe2]
SaveSave
SaveSave