This post is a continuation of a series on Advent. These are just some ideas for inspiration. Take what works. You can't juggle these around as much since 3 of the 4 days are specific to that day. Have a great time helping your children prepare their hearts to celebrate the coming of Emmanuel, God with us.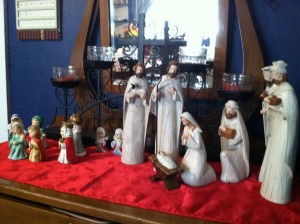 Here are my last 4 suggestions:
22. Light at the 4th candle, the angle of Love, and either continue to read your Advent devotional, or read John chapter 1. Sing (and learn about) Love Came Down at Christmas, Coventry Carol, or another carol you haven't read about yet.
23. Go look at Christmas lights and/or go caroling.  Make a choir of angels, or triangle box angels, or crocheted, or printable, or paper cone angels, or any others I may have added to my Pinterest Advent board.
24. Light the white candle. And read the story of Jesus' birth from Luke 2:1-40. You can also include Matthew chapter 2, in between vs. 38 and 39 of Luke, or save it for tomorrow. Sing Away in a Manger, Silent Night (and others. Read the histories of them, if you have time.)
Go to Christmas Eve Communion, if your church has a service.
Add the manger and baby Jesus to your Nativity.
25. You could read Matthew chapter 2 this morning (instead of the evening of the 24th). Sing Joy to the World!, Go Tell it on the Mountains, and others. Rejoice in Jesus our Savior!
What other ideas would you like to add in? Getting family pictures taken? More home decorating? More easy children's crafts? More baking? Making/preparing and sending Christmas cards? Make gift tags and/or bags? More projects to make for the wildlife?
Remember, other ideas have been posted on my Pinterest Advent board, and several Christmas crafts/activities on my other boards: Misc. DIY and Papercrafts and Printables.
Enjoy preparing your heart and home for the celebration of His Incarnation, and just spending fun times with your children.