It's about time. And I thought I'd give a heads up for those of you not knowing what you plan to do yet, to prepare to celebrate the Incarnation of Messiah (Jesus, the Christ).
For those who are looking for more meaningful, Christ-centered, Christmas, Advent can be one of the most meaningful things you can do with your family leading up to Christmas, to keep it Christ centered. As a child we just did an Advent wreath, lighting the candles and reading Scriptures. This is where we started with our children, and have added to it over the years.
Advent means coming of someone (or thing) notable, thus looking forward to the coming of Jesus, and it is marked out by the 4 Sundays before Christmas with an Advent wreath – 4 candles in a circle and 1 in the middle. The first outer candle is lit the fourth Sun. before Christmas, (this year Dec. 1,) the 1st and 2nd candles lit the next Sun., etc. Three candle are purple (seriousness, repentance, realizing we need a Savior), 1 (the third lit) is pink (joy). The center candle, lit with the others on Christmas Eve, is white. Emmanuel – God is here! There are beautiful advent wreaths to buy, or you can make your own very simply, by just setting 4 votive candles (in glass holders) amongst a wreath/circle of greenery and a white votive in the center.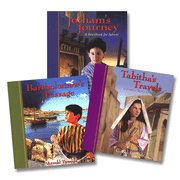 Many books have been written to use for Advent, (some good, others not so,) in addition to reading Scripture alone. Some are just general devotional, thoughts preparing our hearts for the celebration of the Incarnation. Others are children's fictional stories that lead up to Jesus birth. John Piper is offering his Advent devotional, Good News of Great Joy, as a free download. It has readings for each day, not just week. A series of fictional stories, Jotham's Journey, Tabitha's Travels, and Bartholomew's Passage, are about children that meet the Christ child. Each book has daily readings, thus 3 year's worth in the series. Jesse Tree books and activities are other popular ones (we have not used.)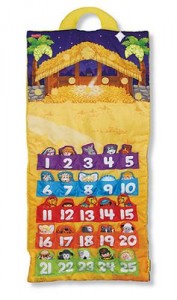 Some people also count the days (not just weeks) with an Advent calendar. Although many use a calendar to just a count down till present-getting day, without a focus on Jesus, there are Advent calendars available that are looking forward to His birth. You can also make your own Advent calendar, very simply.
An Advent Calendar can be used to just note the day, moving a small item from day to day, or opening a "window" on the picture each day. Adding a Scripture for each day will add meaning, yet still be very simple. Others use a count down calendar to plan activities or give small gifts each day. Rather than giving presents every day till the BIG presents come, in addition to reading Scriptures daily, smaller activities focused on preparation and serving others can be scheduled.
The activities can include simple things such as cut paper snowflakes, color a nativity picture, or sing Christmas carols; or more involved things like: go look at lights, get family pictures taken, or go caroling; or bake cookies for the neighbors or give the mailman a small present; or set up the nativity(s), hang a wreath, or the lights, or address and mail Christmas cards. The ages of your children, and how much time and energy you have, will determine which activities are appropriate for your family this year. Even though our youngest is 9, it is still a big deal for all of ours to determine who gets to read and move the Scripture in one of ours, or open the window of another one. Having the other larger things scheduled will help you spread things out, so it isn't overwhelming, and also insure that you get the things you want to do done.
Over the next week or so I plan to post some more simple ideas, for making Advent calendars and activities to do. Come back to check them out. Better yet, subscribe to this blog to get the posts sent to your email, so you don't miss them.
Advent wreaths, books, and calendars are 3 helpful ways to keep our focus on Jesus this holiday season. Find one that works for you.
Get free shipping from CBD with the code below.
Just place an order of $35 or more before 11:59 PM EST on December 5, 2013, enter promotion code 418245, and choose Standard Shipping. Share this code with your friends so they can enjoy Free Shipping too!
Ytreeide Advent Stories, 3 Volumes
By Arnold Ytreeide / Kregel PublicationsThese three Advent devotionals will take you and your family from Advent to Christmas with day-by-day readings and advice for making Christmas a meaningful season of worship. Includes Jotham's Journey, Bartholomew's Passage, and Tabitha's Travels.
Fisher Price Nativity Advent Calendar
By New Day GiftsUnique keepsake Advent and Nativity calendar, 30″ x 14″ is one the entire family will enjoy. Includes 25 puffy fabric pieces, each tucked into dated pockets, to take out during Advent and velcro to the banner. By Christmas day you will have a complete Christmas and manger scene! Soft Advent calendar is family-friendly and may be used for years to come as a Christian Christmas tradition.Puffy and soft, for children as young as 18 months to enjoy; Little People child-friendly designs; soft handle loops over any doorknob to keep this at eye-level for children. Quality you expect from Fisher Price, to share the best story ever with small children during Advent and Christmas.
*This post contains affiliate links.
[subscribe2]