I'm still threatening to rename this blog "Never a Dull Moment". Yesterday found us back in Urgent Care. This time with #2 son and a gash to his tongue. (Actually, I didn't go. I'd seen it enough at home and I wasn't relishing deja vu from when we took Eli in for the same thing a couple years ago.) Too bad we didn't take #1 (at home) daughter in last week when she sliced part of her finger off. Then they'd have met every member of our family except youngest dd. :-/
.
I will spare you the picture, but if you want to see it check my Facebook photos – in the mobile uploads album. He took the pic himself. (Not my FB friend? Request to friend me, just let me know you're a reader of my blog.)
.
That event made the rest of the week kind of pale in comparison. Well, except for the cause of the Urgent Care run – the 15-17″ of snow we got yesterday (and 1 other, noted below.) The boys shoveled our sidewalk and driveway, both parent's, sister's, and parent's neighbor's. They were pretty tired out. But sons were building a snow fort when the "mishap" happened.
.
Do you see now why I just cook and take pics of food now – and do internet ministry? It is my peace in the midst of a storm. BTW, below is a pic of the Chicken Pizza I made last night. dd had put pheasant in the crock pot – but too late. #3 ds told me he wanted homemade pizza. I told him, "Tomorrow we will. Today we already have pheasant cooking." Well …. pheasant didn't get done, so I made the pizza. Was already planning to have a "meat" meal, and had cooked, shredded chicken in the freezer, so…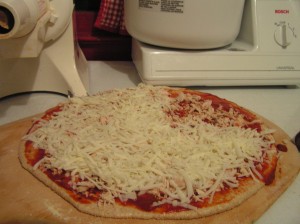 .
The happy event of the week was dd's 18th birthday! Wow! Time does really fly. She was the blessed babe I held in my arms on the 1 week anniversary of her sister's death. A true comfort.
.
What's next? Hoping for a peaceful Reformation Day today, and to write my newsletter this weekend. Then Monday it's time to put together the syllabi and make the shopping list for the
Freedom & Simplicity™ of Good for You-Naturally!™ Seminar LIVE
Health through Nutrition from a Biblical Perspective
If you aren't registered yet, TODAY is the deadline!
.
Don't forget to subscribe to our blog feed, through the link below or the RSS link in the footer – and our newsletter.
[subscribe2]
SaveSave