Savory Mushroom Gravy has become a family fave (except for 1 son who hates mushrooms). We love it over rice or potatoes. Although I don't make the gravy in the Instant Pot, I do make its underpinnings there. This no-fat gravy is rich, hearty and flavorful. (You meat eaters will never miss the beef.)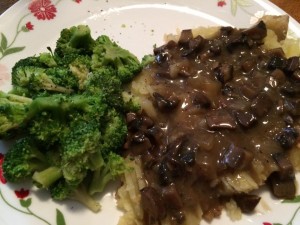 Savory Mushroom Gravy
Dry or water Saute:
1 onion, chopped
3 cloves garlic, minced
Add:
3 cups veggie stock/broth (or water with 2 veggie bouillon cubes, stir to dissolve and disperse).
Add:
3/4-1# mushrooms, chopped (crimini)
2 Tbl. Bragg's Liquid Aminos
black pepper
Simmer until mushrooms start to soften.
Mix (I shake in a small mason jar):
6 Tbl. fresh ground whole wheat flour
1 cup water
Whisk in. Simmer till thickened.
Serve over Brown Rice or baked or mashed Potatoes.
I cook both Brown Rice and Potatoes in my Instant Pot. The Brown Rice link will take to instructions.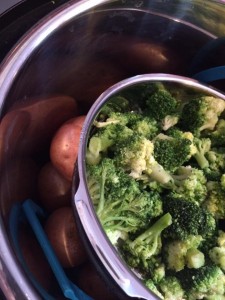 For Potatoes:
approx. 3# medium red potatoes
Place 1 cup water in Instant Pot pan. Place potatoes on trivet set in pan. Put lid on. Seal. Hit Manual and 10 minutes. Quick Release is fine, or let it sit on Keep Warm until you're ready to serve dinner.
To add the frozen Broccoli, I stopped the Instant Pot with 2 minutes left. Added the frozen Broccoli in a stainless steel pot that fits. Restart Instant Pot for 2 minutes. Quick Release. (If using fresh broccoli, you may need 0 minutes.)
Add a fresh greens and veggies salad and enjoy this hearty, potatoes and gravy dinner. Try it and let me know what you think.
[subscribe2]