1-2-3! It's time to revisit Avocado Pudding again. Even though I've never posted the recipe here before. Not sure why, since I've posted it in social media several times.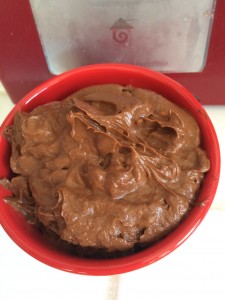 This is a revisit because I've been working at converting some of my recipes from natural sweeteners to whole food sweeteners–experimenting with dates and other fruits. Since I use dates as my sweetener in a lot of recipes, I decided to try them in my Avocado Pudding. Success!
1-2-3 Avocado Pudding
1 Avocado
2 tsp vanilla
3 Tbl raw cacao powder
3 juicy medjool dates, optional to soak first (originally, 1/4 cup maple syrup)
1/3+ cup water (May need up to 1/2 cup depending on size of avocado and whether you soaked dates)
Blend until smooth.
Yum!
[subscribe2]