I made a special dessert last week that I've been wanting to for quite sometime. The "sometime" became just in time for my mom's 85th birthday. I just didn't know it. I wasn't planning to go see her, 4 hours away, because I was working on taxes. You can never realistically take a break when doing taxes with a deadline looming. But I'd made the dessert, and my mom's birthday came, and I couldn't not go. My mom was diagnosed with stage 4 colon cancer about 6 months ago. Even though I'd just seen her a week and a half before, I had to go for her birthday.
SO, I was super glad I had just made these scrumptious yummies, and they were in the fridge ready to go celebrate a birthday, with someone who needs good whole raw veggie food.
The amounts in my recipe fill my entire 14 cup food processor, so feel free to cut it down, like in 1/2. This was my maiden voyage and it's how much carrot pulp I had from juicing for me and the kids.
In getting double duty out of foods, I like to use: juice pulp (even if it is just to feed the chickens), almond pulp from making almond milk makes almond flour, and veggie scraps for soup stock (or to at least feed the chickens). This recipe used 2 of these 3. BINGO!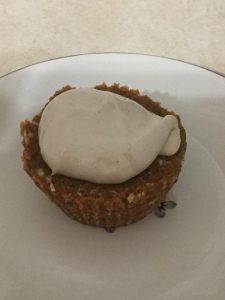 Raw Carrot Cupcakes
1 cup almond meal/flour (I use dried pulp left from making almond milk, blended into flour)
1 cup medjool dates
Process well in food processor. Add:
 1 tsp vanilla
1 tsp cinnamon
1/2 tsp nutmeg
1/2 cup raw coconut
Process well again. Add:
approx 2.5 cups carrot pulp (you could probably use shredded carrots if you squeeze moisture out)
Process really well to get all mixed well. Optional, add:
approx. 1/2 cup raisins (in retrospect, you could add the coconut now, if you don't want it as finely processed in.)
Process a bit, to just chop them, not completely break down. (I did 1/4 cup in half the batch.)
Press into silicone cupcake cups, (or muffin tin, or cake pan). Chill. (Can also freeze to keep longer than several days.)
Or on the other end, dehydrate overnight. These will get a drier "crust", but still be moist inside.
Top with Cashew Cream Frosting.
Happy Birthday, Mom!