I am far from a Papercrafting "expert" but, as perhaps someone a little further on the journey than you, I thought I'd share some of the Basics needed to get started, for the complete newbies. This will be a series of posts, each focusing on one type of supply.
The obvious first is Paper. Generally there are 3 basic types you'll need. Quality (and thickness) varies from brand to brand. There are also other variations and specialty papers that you may want to use, but certainly don't need to get started. The one thing you do want to look for in all your paper crafting papers is "Acid & Lignin Free".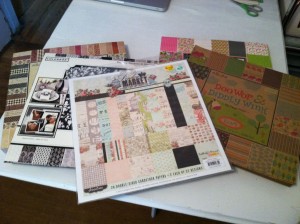 1) Patterned paper. This is your pretty paper used for decorating your paper projects (cards, albums, tags, altered items, etc.) You can buy individual sheets, but much more popular and economical is to buy "stacks", pads of various coordinating papers. Usually the thickness is about the same as copy paper, but sometimes almost like a card stock. Most patterned paper is only printed on one side, but double sided is also available (mainly from the big names). Double sided is more expensive, but very helpful perhaps even necessary, for some projects. Usually you want standard 12″ x 12″ (again the most economical). Other sizes are available, 6×6″, 8×8″, and others, more rarely. Occasionally you may want these for the smaller designs on them and/or already precut to the size you want or less waste.
Beginners: Start with a stack of 12×12″ patterned paper in a design you love.
Tip!: You can get larger stacks of more varied paper very economically – especially because many of the big name craft stores carry their own lines and put them on sale at 50% off regularly. 180 sheets for $9.99 is common.
Tip!: Save your scraps. Most, even small ones, can be used in other projects.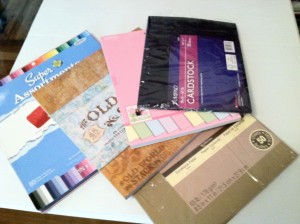 2) Card stock. This is what backs your pretty patterned paper to give it more sturdiness. You'll use it for your card bases, your album pages, tags, etc. There are different weights, you'll usually want something fairly sturdy, 65# or more. Card stock comes in both 12×12″ and 8.5×11″. Generally the 8.5×11″ is fine (and cheaper) for card making and mini albums. The 12×12″ can be useful for some things, and necessary for others (like creating full size album pages.) The 12×12″ comes in more colors, various textures, and sometimes prints. Basic black, white, and "kraft" tan or brown are good for many things, but you'll want more variety eventually, if not right away.
Beginners: Start with a pack of varied basic/neutral colors card stock. 8.5×11″ is fine.
Tip!: Greeting cards are generally made from a half sheet of 8.5×11″ card stock. Which way you cut it in half determines which side your fold will be on.
Tip!: Save your scrap strips. Most of them will be big enough for hinges in albums.
Tip!: Manilla card stock is perfect for making your own tags (much cheaper). File folders work great for this.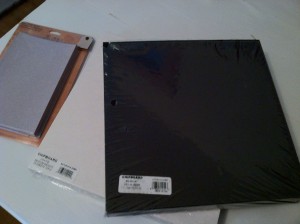 3) Chipboard. Though not really "paper", chipboard is the type of very dense (not squishy) cardboard you use in paper crafts for album covers and other things that you need to be very sturdy. Medium weight chipboard will be appropriate for most of your uses. It doesn't come in the variety of colors as card stock, usually just black, white, and kraft (tan). But that isn't a problem, because usually you will be covering it with patterned paper, card stock, or paint/ink. Because the edges show on many/some of the projects you do, you may want to eventually get all 3 colors, but many people just use kraft. (I tend to use black and white more.) Like card stock, chipboard also comes in both 12×12″ and 8.5×11″. (The grey paper to the left is Grungeboard, see below.)
Beginners: Start with a pack of medium weight chipboard, which ever color you prefer. I recommend the 12×12″ as being a bit more versatile with less waste. But depending on what specifically you are making, that may not be true for you.
Tip!: Sometimes there is a price difference for the various colors. Unless you particularly want a specific color, get whichever is cheapest, though black may show through light colored papers. Grafix is a well known brand.
Tip!: If you get packages by priority mail, you can save the boxes and use them in place of chipboard for most small albums that have completely covered covers.
That's it! Just 3 types of paper stock will get you started in making beautiful albums, cards, tags and other paper crafts.
Tyvek: I want to mention one more type of paper though, because I find it very helpful for keeping my albums secure. Tyvek is a plastic-y paper that large envelopes, like priority mail envelopes, are made of. It is great for reenforcing spines and hinges of albums. You need just a small strip for each. You can buy Tyvek envelopes or recyle ones you get mail in. I highly recommend it for album making, but you don't have to have it.
Some other specialty papers you may want down the road are:
Grunge paper and grunge board–"Grungepaper:  a compressed, flexible, thinner sheet of dingy material that can be punched, painted, inked, sanded, die-cut, or grunged." It is very strong, so great for spines and such. It's other properties make it great for dimensional die cuts and more. Grunge board, as expected, is thicker than grunge paper. (See in the Chip board pic above.)
Vellum–True vellum is a parchment made from calf skin. Vellum paper you find in the stores mimics this, in a smooth translucent paper that is inexpensive.
Acetate–a thin, clear plastic (like transparencies are made of.) Used in papercrafting for making clear pockets or covering other designs with a protective, but see through cover.
Foil, Watercolor paper, and other specialty papers may also be used for certain projects. But loke the other specialty papers in this category are not necessary for getting started, unless you are wanting to do a specific project that calls for them.
Mini albums are also sometimes made with envelopes (of various sizes), notecards, and paper bags–and even empty toilet paper rolls.
I tend to buy whatever I find on sale at a great price that I like. But do you (that already are paper crafting) have a favorite company? If so, what is it and why do you like it best?
[subscribe2]