Moving on from toilet paper tubes, to envelopes and notecards–such was my second mini album this summer. This one was created for our eldest granddaughter who is into photography, so I didn't put any pictures in it.
This project also was made with quite simple supplies, but I expanded a bit, a package of notecards with envelopes on clearance at Staples, a glittery paper pack from Hobby Lobby, a little bit of cardstock for extra pockets and tags, a little bit of ribbon,  a couple empty toilet paper rolls (again), and (I think) a recycled priority mail box again. I did branch out with a few paper punches and a package of paper flowers, and made a duck tape spine.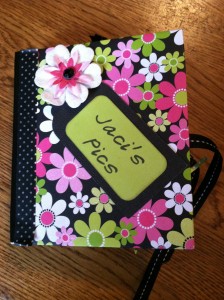 I added a flower, a tag, and some washie tape to cover the edge of the duck tape spine, to the front – as well as the ribbon to tie it shut.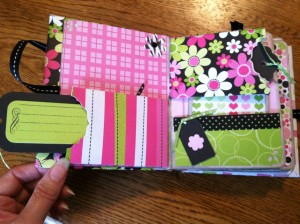 The first page just has a small corner pocket with small tag in it. The second "page" is 2 tp rolls with tags. The third page, a pocket with a folder in it, and journaling lines above the pocket.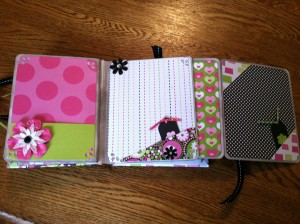 Each envelope page creates a pocket, with a pull-out notecard folder in it. Each page is embellished with pockets, tags and flowers.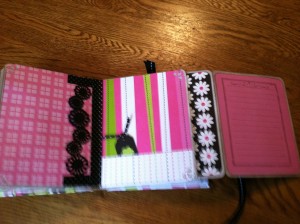 On some of the pages border punches form the pocket. Some pages are plain with lines for journaling.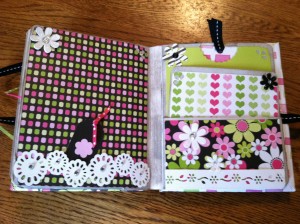 The last page has a double pocket, with tags in each. Oh, and I added some gemstone bling. 🙂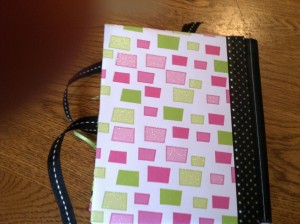 And the back.
I learned a lot about album making with this one. I enjoyed doing more with the punches and pockets, and learning to do the duck tape binding. I also learned that thin envelopes need to be matted to the edge, that Tyvek is a great idea for hinging (I had one coming undone on me and had to do a save,) and that you should just count on your album being too thick and needing a closure–so apply ribbons before adding inside cover papers. 🙂
But I love how it turned out and what I learned along the way of making it. I'll post a tutorial for envelope minis soon.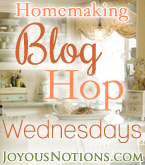 [subscribe2]