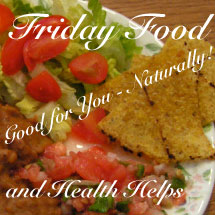 Lisa's Super Spaghetti Sauce
What kid doesn't love spaghetti? And what adult doesn't love good spaghetti? Yes, I know there are non-spaghetti lovers out there, but I have no clue how!
A great fresh sauce that has been simmering all day, served over homemade spaghetti noodles can't be beat. Here's mine.
Lisa's Super Spaghetti Sauce
You can use frozen or canned tomatoes, but in season fresh can't be beat.
Saute:
1 lg. onion, chopped
2-3 lg. cloves of garlic, minced
1-2 Tbl. Extra Virgin Olive Oil
Add:
2 quarts tomatoes, chopped (2 – 28 oz. cans whole)
2 – 6 oz cans tomato paste
3-4 Tbl. fresh Italian Parsley, chopped
10-12 med-lg. basil leaves, chopped
3-4 sprigs oregano leaves, chopped
1/2 green bell pepper, chopped
4 oz. fresh mushrooms, chopped
1 tsp. unrefined salt (Real®, himalayan, celtic)
1 tsp. raw honey
Stir together and simmer several hours – on the stove or in a crock pot.
Serve over cooked Whole Wheat Spaghetti Noodles – homemade, if possible.
(This makes a double batch, which is more than our family of 8 uses for a meal.)
Use organic for all ingredients that you can.