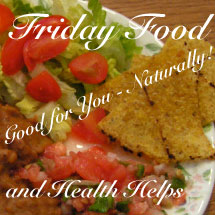 Last week I posted my Super Spaghetti Sauce – the one with the fresh herbs and all, that simmers all day. Do you want a quicker, easier – delicious, but not quite as over-the-top sauce, for those times you're in a hurry? Dried herbs and canned tomatoes make this one a cinch. Here's the recipe for you.
BTW, this is one of our QuikMix Recipes. Use all dried herbs/spices and mix together ahead of time. Then just open your cans, dump in your pre-mixed spices and honey, when you're ready to make sauce. Make up several batches of QuikMix spices at a time and store each in a small jar, Tupperware container, or zip baggie, to always have a QuikMix on hand.
Lisa's Quick and Easy Spaghetti Sauce
3/4 c. onion, chopped (or 1/4+ c. dried minced onion)
1 clove garlic, minced (or 1/4 tsp. dried minced garlic)
1 pint canned tomatoes (1# can)
2 cup tomato sauce (1# can)
2 tsp. dried parsley flakes
1 tsp. dried oregano, crushed
1 tsp. dried basil, crushed
1/2 – 1 tsp. honey
1/2 tsp. salt
Mix all together and simmer for 1 hour or more. Serve over 1 pound cooked, whole wheat spaghetti.