This post is a continuation of a series on Advent. These are just some ideas for inspiration. Take what works, juggle them around to fit your calendar best. Have a great time helping your children prepare their hearts to celebrate the coming of Emmanuel, God with us.
Here are 7 more suggestions:

And this year's Advent Calendar Banner! Click for closer view (and how we made it).

15. This week's Advent candle is the pink one, and it stands for Joy. It is also sometimes called the Shepherd's candle. If you aren't using one of the Advent devotionals I recommended (or another one), read of the angels proclaiming Christ's birth to the shepherds and their visit to the manger. (Luke 2:8-20)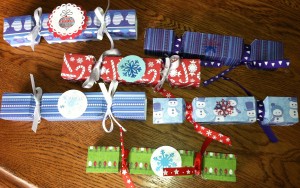 16. Make Christmas Cracker (bon-bon) boxes, fill them, and give to your postman or other delivery drivers or service workers, as an expression of your thanks for the job they do for you. The small size we made fits 3 Hershey kisses.
Cut patterned paper 8″ wide, 5.5″ tall. Score with short edge at top at 1.25″, 2.5″, 3.75″, 5″. Fold and burnish score lines.

Next you need to punch the holes. We used an Envelope Punch Board, (but you could probably just cut triangles.) (I love the Envelope Punch Board and we use it for so many things besides envelopes.) Fold paper on first score line, line up end at 2″ mark on Envelope Punch Board. Punch. Turn paper over, so other side can line up at 2″ mark. Punch. Unfold, and fold on next score line. Punch at 2″ from each end. Repeat for each score line, and on unfolded edge. (If cutting triangle by hand, fold and measure the same, cut from 1.5″ and 2.5″ down about 1/2″ at an angle to meet at 2″ – on each score line, and from each end.)

Score with long edge at top, at 1.5″, 2″, 2.5″ and at 5.5″, 6″, 6.5″. (These score lines will go down each side of the cut outs and through the center of them.) Fold middle score line in (patterned side to patterned side.) Fold outer and inner scores under (so each set of 3 forms an accordion fold, M shape.) Unfold.

Fold over 1/2″ long side, facing up (pattern of main piece facing down.) Put ATG/ScorTape (double sided tape, or you could use glue) on 1/2″ tab. Fold box in half to attach other edge to tape. Press firmly to adhere.

Shape into box shape. Tie ribbon around one notched area, cinching it in a bit gently. Add candies or other treat. Tie other end.

Add decoration, if desired. We punched, stamped, and heat embossed.
17. Read the story of and sing Hark the Herald Angels Sing, or While Shepherds Watched Their Flocks by Night, Angels We Have Heard on High, or one of the carols from the Joy section of Silent Night: The Stories Behind 40 Beloved Christmas Carols. (You're never going to get them all read at 1 per week. Read one or 2 each day.)
18. Go to a Living Nativity, Christmas Concert or Play. 
19. Make Christmas cookies or candies and deliver a plate to a neighbor or friend.
20. Make Snowflake decorations – from popsicle sticks or just cut paper ones, hang them plain or 3D style. Or these really pretty, easy to make but look hard, snowflakes. Or perhaps you'd rather make stars. There's several on my Pinterest Advent board – crocheted, 3D paper, sewn paper.
21. Have a Christmas party or tea. Invite a couple friends over for cocoa or tea, (and some of those cookies/candies you made,) just to relax and enjoy their company in this busy season. Give them a snowflake, "Cracker" box, or plate of cookies to take home.