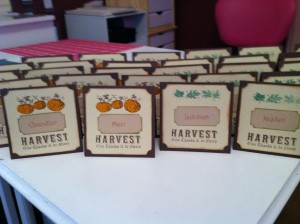 This afternoon, my only daughter left at home and I started nailing down details for ThanksGiving dinner. We will have 29 people at our house, so we have to pre-think the logistics a bit. She commented that we should get the place cards done today, so it wouldn't be a last minute rush. My girls enjoy doing things like that. I'm glad.
I told her I had a few new little stamps for Fall/Thanksgiving, that I'd picked up from the dollar bins, that we could use. So we started designing.
We worked together, but I was also working on other (Christmas) projects, so she did all the stamping, inking and gluing. (I made the name labels, cut and scored.) So THANK YOU Shekynah, for all your help making some great place cards for this year's table.
The card base is dark brown card stock (Colorbok) cut 7×3.5″, scored and folded in half. The mat and label are cut from Ampad Earth Tones card stock. The mat is 3.25″ square. The Harvest-Give Thanks and Be Merry stamp, and the pumpkins and leaves stamps are Studio 112 (2 different mini sets). Edges are inked in Vintage Photo (Tim Holtz Distress Ink,) and corners of the mat punched with Tonic Studio ticket-tag punch. I typed all the names into a table in Pages on my computer, (with the rectangles a bit larger than my punch,) then printed them and punched them out with the EK Success Photo Labels punch. All layered together with my ATG gun.
I was actually pretty impressed with how fast these all went together. I told her, "Wow, if we can do these this fast, maybe we could make homemade Christmas cards." 🙂 She agreed. She likes to make cards.
So much for having all my cards for the year (except that one last one for the very end of the year) done last week. But we had a great afternoon doing it. And it took far less time to make all those cards today than the one card that I will be sharing with you next week. Well, actually, the one next week took a lot longer design time than the design and making of all of today's cards.
See all the cards I've posted.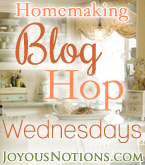 [subscribe2]