I'm taking a little detour from paper crafting in this post. The cards I need for this month are done, and I need to prepare for a crochet class I'm teaching. In keeping with the Valentine's theme that I started with cards last month, (but didn't get pics of,) I've designed a fun Valentine's project.
I'll be teaching beginners how to crochet, and we'll be making Heart Coasters. They're easy enough for anyone who has learned the basic stitches, and a fast project for beginners to complete without getting overwhelmed. And they provide a handy, furniture-saving place to put your glass or mug. They're crocheted with Peaches & Cream cotton yarn.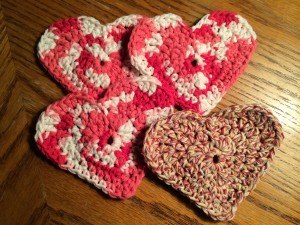 You can make some too. Download my instructions here. FREE to use, just don't copy, repost, or claim it as yours. Instead provide a link to this post (not to the file). Thanks.
Hope you enjoy them.
Entered at the All Things Valentines Link Up at Joyous Notions. Check it out for All Things Valentines.
[subscribe2]