This past month has brought more adult male birthdays (and no children's). With that, and a super busy schedule, it also brought simplicity to card making. Figuring much time and froufrou wouldn't impress them, I sought for nice, but simple–and chose to use printables.
Somehow the picture of the first card must have gotten deleted, so I just have to tell you what I used, and you'll have to click the link to see the paper. I used part of a free printable Steampunk Paper, with airships and gears, from AJ's DigiShoppe. It was much the same construction as the card described and pictured below, and I used some brads in the center of some of the gears.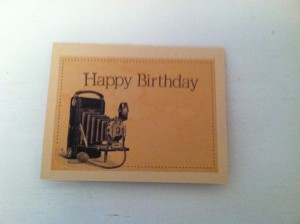 The second card was for a photography buff, so I chose this design–based off a printout from Gina's Designs, Vintage Printable Set (click to see and download). Simple print out, with simple stamp. Inside, another printout, fussy-cut, with a couple more stamps. Yep that was it.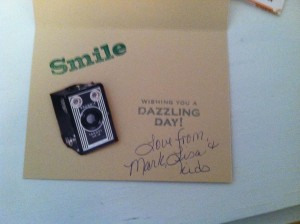 There are some great free downloadable printables out there. (Be sure to read the usage permissions.) Check out my Pinterest Board for many more sites and links.
[subscribe2]