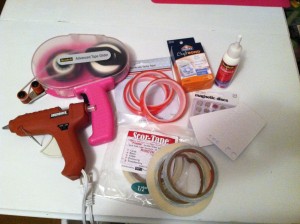 Adhesives are something I learned a lot about early on in album making. I had been fine with my basics for cardmaking and other paper projects I'd been doing over the years, but once I started making albums I learned that you really need to use good, scrapbooking-specific adhesives if you want these things to stay together through much handling.
Like papers, you use different types for different things, but three basics will see you through most needs. Also like paper, you want photo safe, acid free products. Adhesives made especially for scrapbooking/paper crafting are best.
1) Double-sided Tape Runner. For just adhering layers–paper to paper or paper to cardstock– that will not be getting much wear/any movement, a tape runner works fine. I have used various brands of the small "snail" type runners and they are ok for light duty (especially in card making and such) but for those that plan to do much paper crafting, I highly recommend a Scotch ATG (Advanced Tape Glider). Those little snail-type runners go through tape really fast, and the ATG is much more economical. The quarter inch size (pictured below) is what you will use most (maybe only. It's all I have.) ATG tape also works (holds better) than most small snail-type runners I've used, but those can be used in a pinch.
2) Strong Double-sided Tape. For adhering pieces that are going to get movement/wear, you want something stronger than a tape runner. You need something that is really going to hold for hinges and binding, chipboard, box making, and such. You don't want your albums or boxes falling apart. My favorite super-sticking double-sided tape is Scor-Tape, because it can be torn rather than cut, making it fast and easy to use–and economical too.  But I also use Terrifically Tacky (a red line type) because I got a SUPER deal on it in various sizes. Wonder Tape from Ranger would be the same red line type, but I've never used that brand. Like ATG, the size you will use most is probably the 1/4″, but I like having the 1/2″ and 1/8″ on hand because I use them sometimes too. I also have 1 1/16″ of Terrifically Tacky that I use sometimes, and will probably get 1″ Scor-Tape when I run out of that. Scor-Tape is much cheaper to use than the red line tapes (unless you get a buy 1 get 4 free deal like I did.)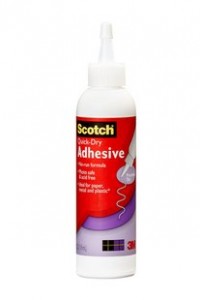 3) Wet glue. There are some times when you just need a glue adhesive. Tapes are great for most things, but for adhering the insides of pockets (you don't want your tags and such to stick in the pocket) and when it's hard to get a precision alignment (tape is stuck for good once it's stuck,) a quick drying wet glue comes in really handy. Scotch Quick Dry Adhesive is my fave. It is a strong permanent glue that dries quickly, but gives you enough time to reposition if necessary. It is photo safe, acid free, and a little goes a long way. And it doesn't leave wrinkly papers like most wet glues–perhaps largely because you need so little. Tombo Mono Multi Liquid Glue is also a popular one with scrapbookers, but I've not tried it.
Like the papers, these 3 basics will take you far. They may be all you need–or you may want or need other special adhesives at times. Again, I'll mention one more that you will probably want to have, but isn't absolutely necessary at the beginning. There's a good chance you may already have it.
A Glue Gun. There are times, especially when adding embellishments, that a glue gun is the best tool for the job. I prefer a high and low temp one–the low being great especially for laces, ribbons, and such. This is a tool you'll use for much more than just papercrafting. I've used Stanley and other brands before, but am currently using a 40 watt dual temp Surebonder (below).

Other specialty adhesives that you may want for embellishments and dimensional  layering are foam adhesive dots/squares and glue dots. Magnetic discs (by Basic Grey) also stick things together in papercrafting, usually as a closure for an album itself, or interactive parts inside an album.  Duck Tape is another specialty adhesive, used sometimes as a spine for albums.
[subscribe2]