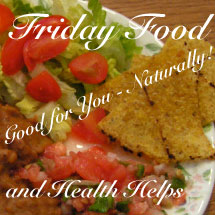 A friend asked for this recipe this week, so here it is. (Just for you Lisa.) But Friday is quickly running out – and so am I, with another busy day tomorrow, so… this will be my regular-way-of-cooking instructions, i.e. no precise measurements.  🙂 We eat this either thickened, and served over mashed potatoes, or thin as chicken noodle soup.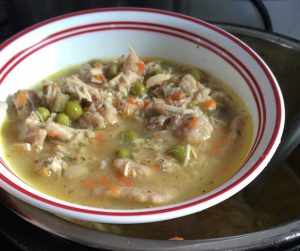 Lisa's Chick 'n Noodles
Cook a whole chicken – either in crock pot over night or in boiling water on the stove. After it's done, because we get really big tender (organic) chickens, I can usually remove the breasts for use in another meal. I de-bone, de-skin and shred the rest back into the broth. (In the crock it will just be the juices, so better for thick chick 'n noodles – but either way works.)
.
Add a diced onion, a few stalks of celery chopped, a couple carrots – chopped or shredded. A small handful of dried parsley (approx 2 Tbl. or so) and about 1 tsp. dried basil. You can also add a couple of cloves of minced garlic, especially if you're fighting colds and such. Add water to cover and simmer.
.
Make your noodles – recipe for whole wheat egg noodles another day. (Link to Noodle recipe.) We make ours thick and wide – chewy, like dumplings.
.
If you cooked the chicken in the crock pot, add more water to the chicken and veggies, plenty to boil the noodles in. Bring water to a boil. Add your fresh noodles. The flour left on the noodles when you put them in to cook will help thicken it up. If your broth is pretty weak, add other broth or soup stock instead of water, or a couple of Rapunzel vegetable bouillon cubes.
.
After the noodles are cooked, you can shake up some (whole wheat) flour in a bit of cold water and stir it in to thicken the broth up more, for serving over mashed potatoes. If making it for soup, use plenty of water/broth, and leave it thin. We usually also add peas, especially if serving it as soup. (2-3 cups maybe) I don't cook them in it all day (don't like dull, mushy peas) but rather add them 15-30 minutes before serving. Add salt and pepper, as needed.
.

If making thick Chick 'n Noodles you can do this instead: Boil your noodles in a separate pot of water, with a smaller amount of water in your chicken and vegetables. Add your noodles to the chicken and veggies after they've cooked, and enough water to barely cover, bring to a boil. Then thicken this broth.
.
Enjoy on a chilly night with homemade whole wheat bread, and carrot/celery sticks.