This mama used to crochet afghans for all the babies, beginning with my first. I loved them having something special, handmade with love, that was soft and cuddly, that they could keep for years to come. I still have my own handmade baby blanket.
Over the years, my styles varied, and I didn't always have a crochet hook in hand. Some got sewn blankets, some embroidered, some quilts. Lately, since my own baby is no longer a baby and I now have a little more time for other projects (sometimes), I've gone back into a quilting phase–quick and easy machine quilting that is, on baby sized blankets only–made of soft flannel.
I love working with patchwork. But I've not developed the patience for intricate patterns made of hundreds of small pieces. So large squares with simple patterns, or one pronounced pattern, usually define my designs.
The Ohio Star is one of my favorite quilting patterns, so 2 years ago I designed this "star" girly baby quilt for one of our new grand girls. (I think it is technically a Ribbon Star.) I loved it! And it got me primed for making more baby quilts.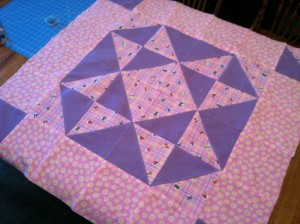 This past year I had 2 new babes to sew for, so I decided to do "rag" quilts, with exposed edges between the squares and around the sides. These wash up into such soft cuddly blankets with their frayed edges.
The girl's rag quilt is a 6×6, like the Star. But the pattern focuses on a smaller center design, a pinwheel, with a more "planned random" pattern around it. (Only 4 half square blocks to work with instead of the 20 on the Ohio Star.)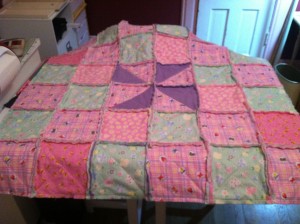 The back of this one got a fun diagonal stripe pattern. (So that added the challenge to this one.) 🙂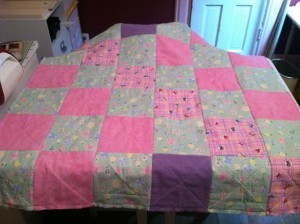 The boy's rag quilt is a 7×7 varied pattern. Though there is an order to it, there is no pronounced design (and no half square blocks). A fitting pattern to go with the camo, I figured. 🙂 The back of this one is solid brown squares, except the center one, which is the green with the dogs. Just a fun little surprise in the middle.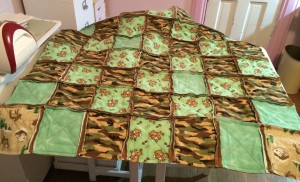 I've really enjoyed working with the rag quilts. They go together pretty quickly, and are more forgiving than most quilts when it comes to lining up all those bazillion (it seems) corners. Not having to bind the edges also saves a lot of time. But also adds much to the cuddliness of these quilts.
In my next post, I'll give instructions for the rag quilts. Even if you've never made a quilt before, these are easy enough for anyone that can sew a straight (or relatively straight) seam. (I told you they're forgiving.)
Do you make quilts? Do you quilt by hand or machine (or send it out for the quilting)?
[subscribe2]