Some of my earliest memories are of my father typing. My dad was a pastor and when I was a child, when asked what I wanted to do when I grew up, I'd reply, "I'm going to type, type, type, and work, work, work and shut the door and not let anyone in." Evidently I remembered the times when dad needed some peace and quiet in our home with 5 children, but I wanted to be like him. 🙂
Thus the inspiration for my card for my dad's birthday today. My dad is also an avid reader, so the "book page" background was a natural too.
Inside I included a few other goodies that remind me of him or seemed to go well, the car 3¢ stamp, bicycle, and compass gem with "Enjoy the Journey" stamped. I also had to color the bicycle seat red (just because.)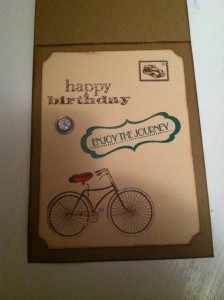 The front paper mat is from the same stack I used on the last card, Heirlooms from DCWV. I cut the corners of it and the inside mat with the ticket punch from Tonic Studio. (Yep, I must've had it before I did the tags on the last card. It is a double punch–tag and ticket.) Card base is Recollections Kraft card stock from Michael's. Card stock for stamps and interior is from Ampad Earth Tones (from Walmart). Edging in Tim Holtz Vintage Photo Distress Ink. Stamping with Rich Cocoa from Memento, (I think. See previous post.) Christmas Green is only dark green I have, a Stampabilities pigment ink from Hobby Lobby. Most of the stamps are Stampabilities from Hobby Lobby: Typewriter and "TYPE" from Typewriter set, 3¢ car stamp from Time & Travel set, bicycle from Vintage Outdoor set. "Enjoy the Journey" is from Recollections (I don't see a name on it). "Memories" is from Studio G. "Happy Birthday" is from Hero Arts Many Birthday Messages. The Compass brad is from the Prima Engravers collection. The wood buttons are Hobby Lobby (see last post.) I tend to not mention ribbons, but they are usually from Walmart, Hobby Lobby, or JoAnn's.
Again, being a man's card, I didn't heavily embellish it (even though I know this one will be saved.) I love that it so represents my dad, and hope he enjoys it (and doesn't open his internet until after he opens his card today.)
I'd love to see the men's cards you've made.
See other cards I've made and posted.
[subscribe2]